Are you searching for how to write email to teacher for submit assignment? Then, you are in the right place. In this blog post, we'll explore the step-by-step guide for how to write email to teacher for submit assignment and also discover additional tips for students that will help you write an email formally.
Writing an email to submit an assignment to your teacher requires clarity, professionalism, and respect. This communication is a formal way to convey that you have completed and are ready to turn in your assignment. An effective introduction sets the tone for the entire email, providing essential details and expressing your intention to submit the assignment for review.
The introduction should be concise and include key elements such as your name, class information, and a clear statement about the purpose of the email – submitting the assignment. This sets the stage for well-structured and courteous communication with your teacher.
What Is An Email?
Email, short for electronic mail, is a digital communication method allowing people to exchange messages using electronic devices. Composed of text, images, or attachments, emails are sent through the Internet, utilizing protocols like SMTP. Users create messages via email clients or web services, specifying recipients and often including subject lines. Sent to email servers, recipients can access messages through email clients or browsers. Emails serve various purposes, from personal communication to professional correspondence, providing a convenient and efficient means of interaction across distances and times.
Also Read: 49+ Exciting CGR Micro Project Topics: Learning and Innovation
Now, let's move to our main topic how to write email to teacher for submit assignment.
Steps For How To Write Email To Teacher For Submit Assignment
Here is a step-by-step guide on how to write email to teacher for submit assignment.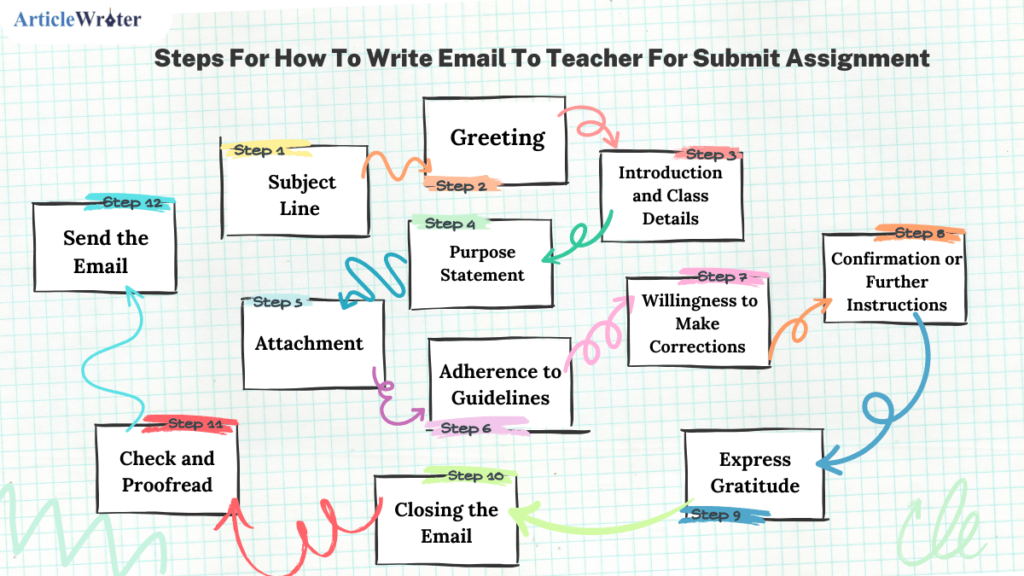 Step 1: Subject Line
Start your email with a concise subject line indicating the purpose. For instance, use "Assignment Submission – [Your Name]" to help your teacher understand the content of the email at a glance.
Step 2: Greeting
Begin your email with a polite greeting. Use "Dear [Teacher's Name]" to maintain a respectful and formal tone. This sets the right tone for your communication.
Step 3: Introduction and Class Details
Briefly introduce yourself in the body of the email. Provide your full name and mention the specific class or subject for which you are submitting the assignment. This helps your teacher identify you easily, especially if they have multiple classes.
Step 4: Purpose Statement
Clearly state the purpose of your email. Mention that you are writing to submit a particular assignment, and include the assignment's name or number. This upfront clarity ensures that your teacher understands the main point of your email immediately.
Step 5: Attachment
Attach the completed assignment to the email. Ensure that the file is in the correct format and follows any guidelines provided by the teacher. Briefly mention the attachment in the email body to draw attention to it.
Step 6: Adherence to Guidelines
Reassure your teacher that you have followed all the instructions and guidelines provided for the assignment. This demonstrates your attention to detail and adherence to the given criteria.
Step 7: Willingness to Make Corrections
Express your willingness to make any necessary corrections if there are errors or if the teacher provides specific feedback. This shows that you are open to improvement and value their guidance.
Step 8: Confirmation or Further Instructions
Politely ask for confirmation of receipt or inquire if there are any specific steps you need to follow after submission. This ensures clarity on the next steps and shows your proactive approach to the assignment process.
Step 9: Express Gratitude
Thank your teacher for their time and assistance throughout the course. Expressing gratitude adds a courteous touch to your email and shows appreciation for your efforts.
Step 10: Closing the Email
End the email with a closing phrase such as "Best regards" or "Sincerely," followed by your full name. This provides a professional and polite conclusion to your email.
Step 11: Check and Proofread
Before hitting send, carefully proofread your email to catch any typos or errors. Ensure all the necessary information is included and the tone is professional and respectful. This step is crucial to present yourself in a polished and organized manner.
Step 12: Send the Email
Once you are satisfied with your email, click on the send button to submit your assignment. Confirm that the attachment is included and the recipient's email address is accurate.
These step-by-step guides on how to write email to teacher for submit assignment help you to write an email to a professor in a formal way.
A Sample Format Of An Email To Teacher For Submission Of Assignment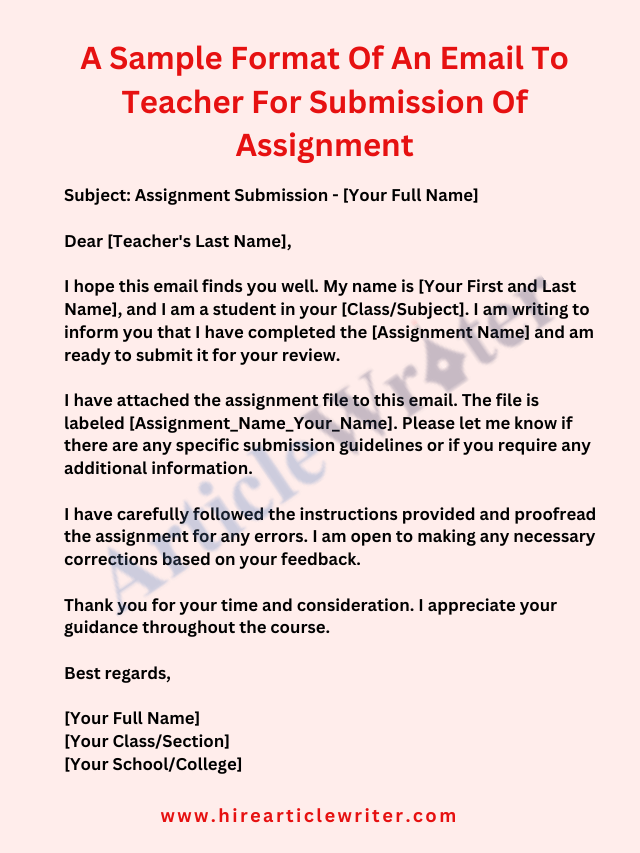 Also Read: Top 21+ Amazing Digital Techniques Micro Project Topics
Some Do's And Don't Of Email Writing To A Teacher
There are certain things that a student must keep in mind while writing an email to a teacher:
Do's:
Be Polite and Respectful: Use a courteous and respectful tone throughout your email.
Include a Clear Subject Line: Clearly state the purpose of your email in the subject line for easy identification.
Introduce Yourself: Briefly introduce yourself, especially if the teacher might not know you well.
Specify the Class/Subject: Mention the specific class or subject relevant to your email.
Clearly State the Purpose: Clearly articulate the reason for your email, whether it's a question, request, or assignment submission.
Proofread Your Email: Check for typos and grammatical errors, and ensure clarity before sending.
Attach Files Appropriately: If sending attachments, make sure they are properly labeled and relevant to your message.
Express Gratitude: If applicable, express thanks for the teacher's time or assistance.
Follow Any Provided Guidelines: Adhere to any guidelines or instructions provided by the teacher or institution.
Don'ts:
Avoid Informal Language: Keep the tone professional; avoid overly casual or informal language.
Don't Use All Caps: Writing in all capital letters can be perceived as shouting, so use them sparingly.
Limit the Use of Exclamation Marks: Excessive use of exclamation marks may come across as unprofessional or overly enthusiastic.
Avoid Slang and Abbreviations: Use formal language; avoid slang or excessive use of abbreviations.
Don't Neglect Proofreading: Proofreading is essential to ensuring the clarity and professionalism of your message.
Refrain from Attaching Irrelevant Files: Only attach files directly related to your email's content.
Avoid Long Paragraphs: Break up your text into shorter paragraphs for better readability.
Steer Clear of Rambling: Keep your email concise and to the point; avoid unnecessary details or lengthy explanations.
Don't Disregard Formatting: Maintain a clean and organized format for your email; use paragraphs appropriately.
Avoid Sending Late-Night Emails: Try to send emails during appropriate hours to respect the teacher's time.
Remember, these are general guidelines, and it's important to adapt your approach based on your specific context and relationship with your teacher.
What Is An Official Email Format For Writing An Email To A Teacher?
Here, we discuss an official email format for writing an email to a teacher.
1. Subject Line: Begin with a clear and concise subject line that indicates the purpose of the email, such as "Assignment Submission – [Your Full Name]."
2. Salutation: Use a formal salutation, such as "Dear [Teacher's Last Name]," to maintain a respectful tone.
3. Introduction: Start with a brief introduction, including your full name, class, and the specific subject or course you are addressing.
4. Purpose Statement: Clearly state the purpose of your email, whether it's submitting an assignment, seeking clarification, or addressing a specific concern.
5. Body of the Email: Organize your content into paragraphs. Clearly and concisely convey the necessary information. If submitting an assignment, mention the attachment and any specific instructions followed.
6. Politeness and Formality: Use formal language throughout the email, avoiding slang or overly casual expressions. Maintain a tone of respect and professionalism.
7. Closing: Conclude the email with a closing phrase, such as "Best regards" or "Sincerely," followed by your full name.
8. Signature: Include a professional email signature containing your full name, class or section, and any other relevant details, if necessary.
Remember, adapting the level of formality to your specific relationship with the teacher is important, and always follow any specific guidelines or preferences provided by the teacher or institution.
Additional Tips for Students
Here are some additional tips for students to keep in mind while writing an email.
Professional Email Address: Use a professional and appropriate email address for academic communication.
Descriptive Subject Line: Craft a subject line that clearly conveys the purpose of your email.
Check Preferred Communication Method: Verify if your teacher has a preferred method for receiving assignments.
Attach Files in Common Formats: Submit assignments in widely accepted formats (e.g., PDF, Word) for compatibility.
Formal Language: Maintain a formal and respectful tone, avoiding slang or overly casual language.
Conciseness is Key: Keep emails concise, focusing on the main point without unnecessary details.
Thorough Proofreading: Carefully proofread for spelling and grammatical errors before sending.
Express Gratitude: Thank your teacher if they provided support or guidance during the assignment.
Appropriate Follow-Up: If confirmation is not received promptly, consider a polite follow-up email.
Respect Timelines: Submit assignments within specified deadlines and communicate in advance if challenges arise.
Include Relevant Details: If needed, include class or section details for efficient processing.
Avoid Last-Minute Submissions: Submit assignments well before deadlines to avoid complications.
Check Email Policies: Be aware of institution or teacher email policies, such as file size limitations.
Respect Response Time: Understand teachers may have varying response times; be patient.
Maintain Professional Signature: Include a professional email signature with your full name and relevant details.
Also Read: 71+ Incredible Aerospace Engineering Project Ideas.
Some Email Writing Topics For Class 6
Have a look at some email writing topics suitable for class 6 students.
Write an email to your friend describing your favorite hobby and why you enjoy it.
Compose an email to a classmate inviting them to join a study group for an upcoming exam.
Write an email to your teacher expressing your appreciation for a recent interesting class activity.
Email your school librarian to recommend a book you recently read and enjoyed.
Compose an email to your parents explaining your plan for organizing your study schedule during exam preparation.
Write an email to a pen pal from another country, sharing information about your school and daily life.
Email your teacher to inquire about the upcoming class project and ask for any additional details.
Compose an email to a family member describing a recent school event or field trip.
Write an email to your school principal suggesting ideas for improving the school library.
Email a classmate to collaborate on a group project, discussing roles and responsibilities.
These topics cover a range of scenarios, encouraging students to practice various aspects of email writing, including communication, courtesy, and clarity.
Conclusion
In conclusion, writing an email to submit an assignment to your teacher involves a thoughtful and organized approach. By following the steps outlined in the email template, maintaining a professional tone, and considering additional tips, you can effectively communicate your intention, ensuring clarity and respect in your correspondence. Remember to proofread your email, adhere to specific guidelines, and express gratitude for your teacher's time and guidance. Effective communication in this context facilitates the submission process and contributes to a positive and professional student-teacher relationship. I hope you will like this blog on how to write email to teacher for submit assignment.
Frequently Asked Questions
Q1. Should I use my personal or school email address to contact my teacher?
Using your school-provided email address for academic communication is generally advisable to maintain professionalism.
Q2. How do I ensure my email isn't in the teacher's spam folder?
Use a clear subject line, avoid excessive formatting, and ensure your email content is relevant to the subject to reduce the likelihood of being marked as spam.
Q3. How do I confirm that my teacher received my assignment email?
You can politely ask for confirmation in your email or, if necessary, follow up after a reasonable time if you don't receive a response.
Q4. what is an attachment file?
An attachment file is a separate document or file linked to an email and sent with the email message. It can contain various data types, such as documents, images, or other files, and is intended to be viewed or downloaded by the recipient.